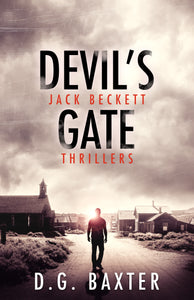 Two men were brutally killed in Casper by someone who looked like Jack Beckett. The sheriff briefly held Beckett but let him go. But Beckett couldn't do the same. He had to clear his name. He had to get to the bottom of it. He had to turn over every rock until he found the men who did it. It didn't hurt that he liked the deputy who arrested him. Her name was Janie Sherman. She was attractive, a no-nonsense woman who cared for her disabled kid sister.
He stayed in Casper to lend a hand. And that's when it got interesting. Sherman's sister was kidnapped. Then the undersheriff killed himself after locking himself in his office. Beckett was closing in, getting too close, and someone didn't like that. Sherman's sister was just bait. The killers wanted Beckett, dead or alive. Eventually dead. They proposed a swap; Sherman's sister for him. He took the deal.
It ended up in the historic Medicine Bow Hotel. One of the killers was holed up with Sherman's sister. He had a gun, and Beckett didn't. That was the deal to get into the room. Come in unarmed, and we'll talk. Beckett's fighting ability no longer mattered. He had to talk his way out of this one. His life and the woman's life depended on it.