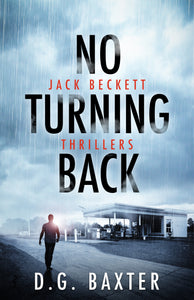 Every mother's nightmare happened to Mary Garrett. A sudden call. A frightening voice said her daughter had been kidnaped. Brisk instructions not to call law enforcement but to drive east on I-80 within the hour. Jack Beckett was sitting across from her in an expensive restaurant. She begged for his help. He couldn't say no.
Beckett drove Mary Garrett east for two days. A mysterious man named Pippen followed. Beckett and Mary tried to unravel the clues they had. But there were no options. If Mary wanted to see her daughter alive, they had to keep driving.
When they arrived at the destination, it was a heavily guarded compound deep in the Ohio woods. They drove past a towering gate into a place like no other. Would Mary find her daughter? Would they make it out alive?